Join the 'Welcome to Reading' Volunteer Ambassadors
25th March 2022
The Welcome to Reading Ambassadors at Reading Station are looking for like-minded people to join them to help welcome visitors to Reading.
Launched last July, the volunteer-led scheme provides a friendly welcome to visitors arriving by train and helps them with their onward journeys in Reading with local information and directions.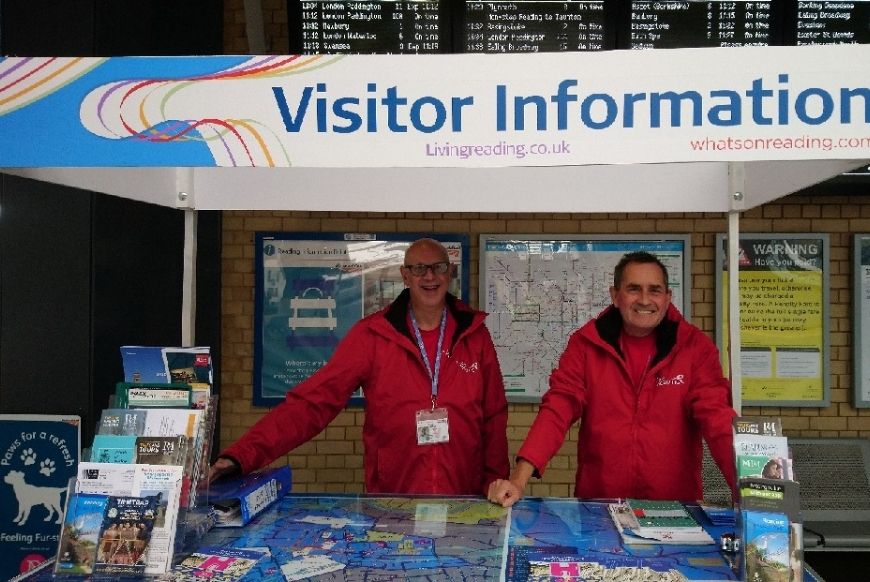 The Welcome Ambassadors volunteer one morning a week, operating a mobile visitor information stand inside the station by the ticket barriers.
Alex Brannen of Reading UK, said: "The volunteer Ambassadors represent our town and all that is great about it, sharing their knowledge of things to do, where to go and how to get there with the thousands of people who pass through Reading Station. This is a role that suits people who like talking to and helping others and who want to help promote our town."
Terry Dixon, Welcome Ambassador volunteer said: "From helping people on the station with all manner of requests and giving a good first impression of Reading to providing directions and ideas of things to do in Reading, volunteering as a welcome ambassador is rewarding and fulfils an important function of promoting our friendly town to people visiting or just passing through."
Reading UK is looking for volunteers who want to share their pride in Reading, and who can give up three hours a week to help run the mobile visitor information stand inside Reading Station. Volunteers will be paired up with another Ambassador and receive induction and a uniform and will be in a team with other volunteers. Anyone interested will need to be able to volunteer for three hours, one day a week.
To find out about volunteering as a 'Welcome to Reading Ambassador' read the role description or contact alex@livingreading.co.uk