'However you Christmas', Reading offers the festive flavour
4th November 2022
The Christmas season in Reading gets underway on Saturday 19 November with the turning on of the town centre's 400,000 Christmas lights. However you celebrate Christmas, this festive season in Reading will offer everyone a way to make the most of the holiday period.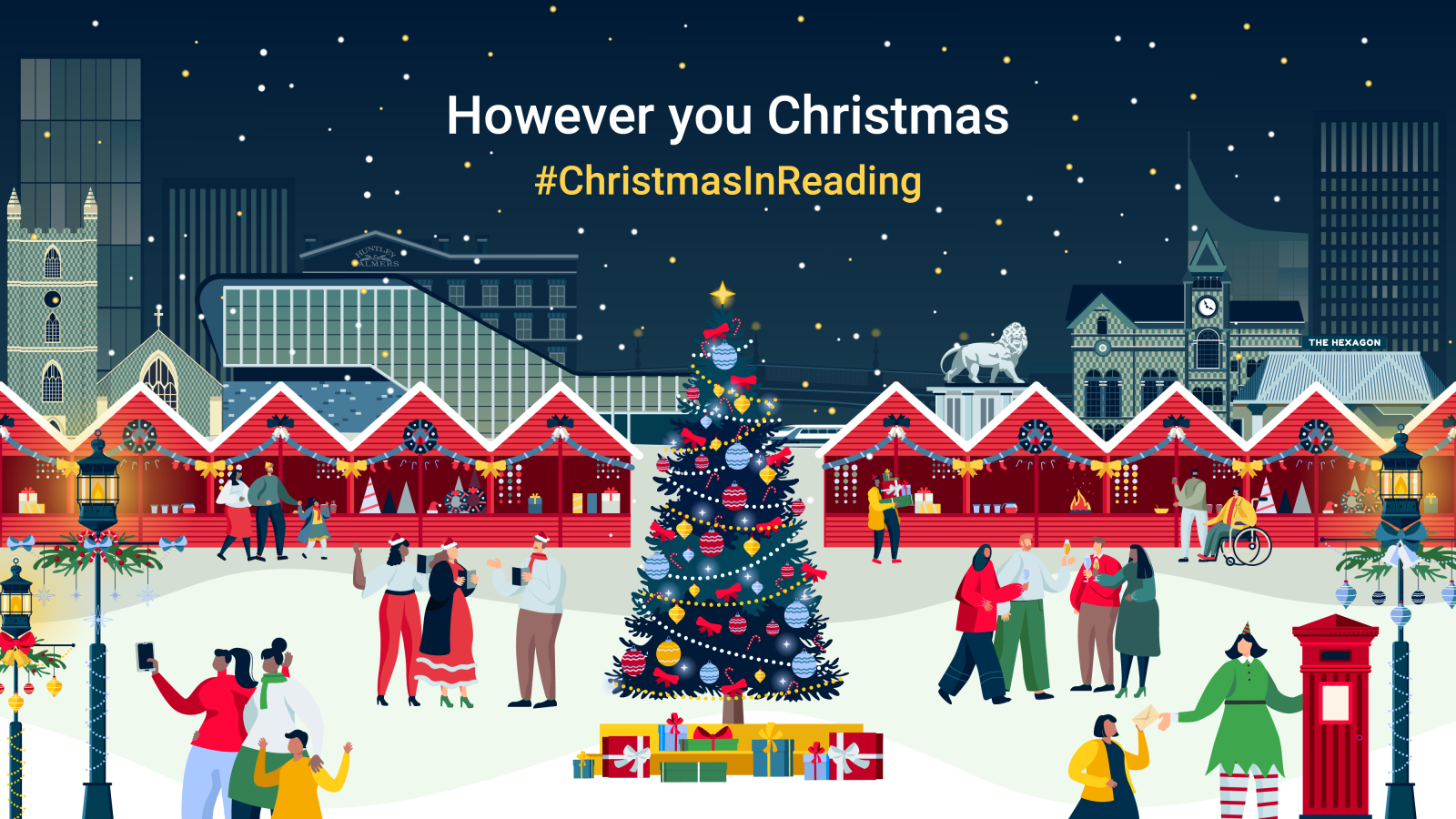 As it gets dark on Saturday 19 November, Reading town centre will come alight with the Broad Street Christmas tree and 400,000 lights in the town centre switching on. There will be a bar selling drinks and coffee, lots of Christmas fayre to get everyone in the mood and live Christmas music from 1:30 to 4:30pm.
Highlights of the season include Small Business Christmas in Reading on 3 & 4 December in Market Place offering shoppers some of the very best of our local independent traders – from beers to board games, candles to comics. Don't miss Santa's Grotto at Broad Street Mall from 26 November; the Reading Lantern Parade - Dance of the Fireflies procession through the town centre on 10 December; Gig in the Gardens in Forbury Gardens on 9 December; the Hexagon pantomime, Jack & The Beanstalk starring Mr Tumble opens on 3 December; Christmas Crazy Golf at the Oracle; Neverland Illuminova at Wellington Country Park; and there's Reading Rep's A Christmas Carol, carol concerts, Christmas shows aplenty, Christmas decoration workshops and much more besides.
Still looking for somewhere to host your office Christmas lunch or family Christmas party? There's plenty of choice in Reading from a 5-star hotel and swanky restaurants to the glitzy casino and festive pubs. Christmas menus, with and without turkey or meat-free menus, to match all tastes and budgets. You could hire out a whole restaurant for your works party, book a private dining room, theme your party or make it a refined affair. There's a world of choice.
Christmas shopping couldn't be easier. Mix and match from Reading's many independent stores to all the famous high street names in The Oracle, Broad Street Mall or in the pedestrianised town centre streets. Pick up your Christmas cheese and new family board game, stocking fillers and love tokens with all the shops within a short walking distance of each other.
Nigel Horton-Baker, Executive Director, REDA, said: "However you Christmas, Reading is the place to celebrate the yuletide season - from the best Christmas shopping for miles around, to stylish office Christmas lunch and party venues and a fabulous events programme.
"With 400,000 Christmas lights, three Christmas trees, yuletide fayre, lantern parades, festive music and all your favourite stores from big brands to the pick of our independent businesses, why wouldn't you do Christmas in Reading?"
However you Christmas, you'll find lots of ideas to make the most of the festive season at visit-reading.com/Christmas or follow us on Twitter, Facebook and Instagram #ChristmasInReading. It all starts on 19 November.